Painting Alloy Wheels or Plasti-dipping your wheels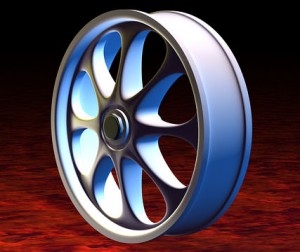 Have you been thinking about painting alloy wheels or plasti-dipping wheels yourself? Before you do, please read this page – you may think twice!
We get asked to repair or re-paint wheels that have been pasti-dipped or spray painted with a protective plastic coating on a reasonably regular basis.  These plasti-dip coatings are all well and good – they protect the wheel, they give the wheel a new colour, however, if you damage your wheel, they are a bit of a hindrance.
The first thing The Wheel Man has to do is remove the coating.  Sometimes these coatings are easy to remove, they peel off in easy strips, but other times, they are brittle and are difficult to remove.  This then becomes a tome consuming and expensive process.  That is the first downside of these types of coatings.
Secondly we repair the wheel and repaint the wheel to it original colour.  Now you have a wheel that is back to its original colour, but all your other wheels have the plasti-dip colour coating on them.  So you now need to repaint one wheel.
Thirdly, if the gutter damage is only in a small part of the wheel, and we come to repair the wheel as a mobile service.  You will need to remove the plasti-dip coating from around the area that needs repairing.  We will then repair your wheel back to original colour and now you have a wheel that has a segment that has no plasti-dip coating.  This means you will need to purchase another can of plasti-dip and respray your wheel.
We do get asked to respray the wheel to the same colour of the plasti-dip coating.  Unfortunately, that is not possible, as the paint is a different chemical composition to the normal 2 pak paint used in the automotive industry, so colour matching is impossible.
The fourth problem we, as wheel repairers, have with these protective coatings, is that some of these coatings are clear.  So, you may have forgotten that the wheels have been coated and we come along to repair and repaint the wheel, and the paint doesn't stick and dries to an orange peel finish.  That does cause us real problems.
So please inform us when you book the wheel for repair, if you have any plasti-dip or protective coatings on your wheels.