Wheel Damage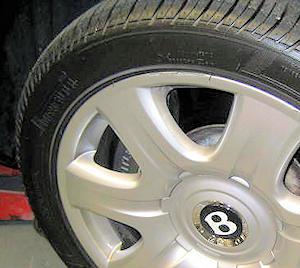 The most common wheel damage which requires repair is damage sustained by gutters or curb rash, scratches, gouges, stone chips, brake dust and clear coat erosion.
Alloy repairs take time and are fiddly repairs. You need to have all the required equipment otherwise wheels repairs take too long and are not viable (cost effective) to perform.
Wheel Damage Fixes
Many people are surprised when they hear about The Wheelman service – they were not aware that aluminium or alloy wheels can be repaired. But even more surprising is that the wheels can be fixed whilst still on the car at your location!
Often, they think wheel replacement is the only option from their prestige car service centre, costing them $800 or more for replacing their wheel – wheel refinishing on the car costs a mere fraction of this!
Rim replacement should be your last option if you have gutter damage to your mag wheel. Wheel replacement is such an expensive option and the option of wheel repair in most situations and with most types of damage is repaired to a high quality finish.
The Wheel Man can repair wheel scratches, gutter damage, spray paint the wheel, and offer a complete wheel reconditioning service so that your alloy wheels look like new again. Our wheel repair specialists are trained for wheel repairs in all types of cosmetic damage.
Unfortunately, we are unable to repair alloy rims that are cracked, bent, out of round, and any other structural damage. Also, car wheels that are chrome plated are also impossible to repair because there are no services to re-chrome a wheel in Australia.
The Wheel man is a mobile alloy wheel repairer specialising in auto wheel repairs and refurbishment for private and business clients.
We are a convenient and cost effective solution to wheel rim repair, wheel refurbishment, and wheel reconditioning because we come to your home or business and perform aluminium wheel repairs on site.
Please feel free to email us on info@thewheelman.com.au with some photos and we will be more than happy to send you a quote to repair your valuable alloy wheels.