Perth Wheel Repair
If you are in the need of professional Perth wheel repair services, with wheels being repaired on your vehicle at your location, The Wheelman is now in Perth.
Text a photo of your damaged mag wheel to 0490 040 409 for a fast quote.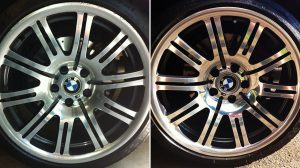 Our technicians will visit you, at your home or workplace, and fix your alloy rims at your convenience.
The Wheelman has many years of experience, and uses the latest technology and training to expertly return your damaged alloy wheels back to as close to new condition as possible.
A little more about our Perth wheel repair services
Our Perth-based mobile alloy wheel repair service allows us to repair most alloy wheel damage, including gutter rash, at a time and place to suit our customers.
The Wheelman's Perth Technician specialists can visit you at your home or office, and we cover all Perth suburbs.
We can also work with local car dealerships and smash repairers, and can repair most wheel damage on site at the dealership or smash repairer's workshop.
Please note that we cannot repair chrome wheels.
Get in touch now
To read more about our Perth wheel repair services, please click here. If you are ready to get in touch now, call us on 1300 933 299, or use the form on our contact page.
If you use the form, please don't forget to upload photos of your damaged wheels.