Chrome Wheel Repair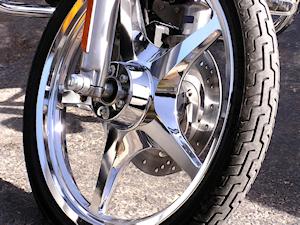 We are a mobile alloy wheel repairer specialising in on-site wheel repairs and refurbishment for private and business clients.However, this does not include chrome wheel repairs.
The Wheel Man provides a convenient and cost effective solution to wheel rim repair, wheel refurbishment, and wheel reconditioning because we come to your home or business and repair the damaged to the aluminium wheel on site.
There are some repairs that cannot be done as a mobile service. These include buckled rims, cracked spokes or wheels, chrome wheels, motorcycle wheel repairs or steel wheel repairs.
With respect to cracked spokes or wheels, buckled rims, or even wheels with deep gouges, we can repair these wheels, however, we need to repair them in our factory workshop, not as a mobile service.
Chrome Wheel Repair
In the case of chrome wheels unfortunately there is no facility in Australia to get a car wheel re-chromed. There are a few businesses that will re-chrome a truck or bus wheel, but they do not re-chrome car wheels and rims.
Once you have damaged a chrome wheel, no matter what the damage is to the rim or spoke of the chrome mag wheel, the wheel cannot be repaired, simply because the car alloy wheel cannot be re-chromed. So, with car wheel repair for chrome wheels, unfortunately, you have to either find a wheel replacement or second hand wheel.
This is very frustrating for the car owner, because the damage on a chrome wheel is very unsightly. Wheel repair in this case is not possible, because the wheel cannot be re-chromed after the damaged has been removed.
Spoked wheels are difficult to repair as they have steel rims and therefore cannot be repaired as a mobile service.
The Wheel Man does get asked to alter the wheel nut spacing or to drill out the wheel nut, or even to alter the shape of the wheel nut mounting hole. Unfortunately this requires a factory based engineering business and this type of wheel reconditioning cannot be performed by a mobile wheel repairer.
Please feel free to email us on info@thewheelman.com.au with some photos and we will be more than happy to send you a quote to repair your valuable alloy wheels.