What is the 7 point Wheel Man Guarantee?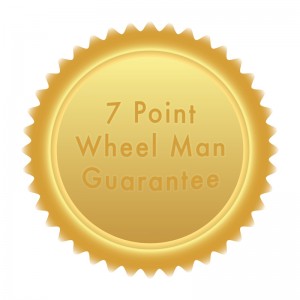 The 7 point Wheel Man Guarantee is:
Durability and Workmanship – 365 day guarantee
We use the best paints and equipment there is and we make sure that the repair job we do will last.
Wheels that look just like new again – absolutely guaranteed
If our repair job is not 100% fantastic by your standards, then please tell me so that I can get it sorted and looking the way you expect it to be – guaranteed.
100% Customer Product Satisfaction – absolutely guaranteed
If you are not 100% satisfied with the repair job we have done on your wheel, we'll fix it to your satisfaction with no extra charge.
Service – If you don't love us guarantee
We're passionate about customer service and stand by this passion 100%.
If you're not 100% happy with the service you receive from my team, I want to hear from you so I can fix it – pronto guaranteed.
Cleanliness – spotless and shiny guarantee
We not only repair your wheels we leave them spotless and shiny just like in a showroom plus we take 100% of our used materials with us.
Follow Up – We stick like Velcro!
As Sydney's longest serving professional mobile wheel repair man, if at any time you have a question after our service we'll be around to handle it.
Personal Care guarantee
As the founder and owner of The Wheel Man, I personally stand behind every job no matter how big or small. And to prove it you'll be left with my personal mobile phone number 0490 040 409.